From the Portfolio Management Team
Financial Markets
The second quarter of 2023 was great for stock markets but disappointing for fixed income. Specifically, the S&P 500 was up 6.9%, the Nasdaq was up 11.4% and the Bloomberg US Aggregate bond index was down -0.4%. Markets looked quite tame until mid-May when large technology companies, in particular NVIDIA, started announcing excellent results on the back of advances in artificial intelligence (AI) and high demand for related microchips, software, and services. In contrast, fixed income markets were disappointed that core inflation wasn't falling as fast as the Federal Reserve wanted, prompting updated views on interest rates being higher for longer than expected.
Stock and bond performance in Q2 2023: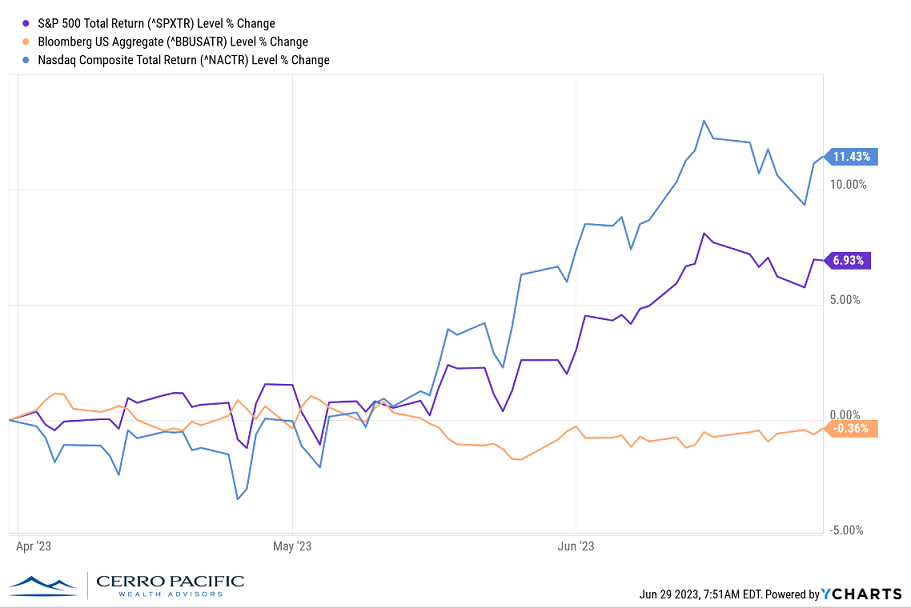 The Economy
The U.S. economy continues to perform better than most predicted at the beginning of 2023, with consumer spending still strong and the services part of output still expanding. All is not rosy, however, with leading economic indicators still pointing to a recession, the manufacturing sector (smaller than services) contracting, and, most recently, increasing jobless claims (see graph below). The Federal Reserve continues to be worried about high core inflation but has decided to pause their interest rate increases as they worry about economic slowing. Other areas of concern include commercial real estate, especially offices that used to be filled by employees who are still working from home, and banks that are witnessing both deposit outflows to higher interest rate alternatives and concerns over loans to borrowers where higher interest rates could unravel business models.
Increasing jobless claims could be signaling that the economy is finally getting weaker.



Looking Forward
Going into the third quarter, investors are most focused on earnings reports that could indicate the underlying health of both business profits and consumer spending. Second to that will be ongoing attention to the Federal Reserve and how it will react to declining inflation and other economic data. Although parts of our portfolios have benefited from large technology stock growth, other parts have not participated as much or at all. We expect this to change as either the rest of the market catches up or the largest glamour stocks pull back to historical valuations. In fixed income, we continue to think mortgage-backed securities and select corporate bonds represent good value. In equities, we still hold our growth winners and other sectors that are outperforming, like international, as well as stocks that have been lagging, mostly in the lower-growth and less glamorous sectors. There could be market weakness ahead if the economy rolls over into recession, but things could also keep motoring along like they have been so far this year. Regardless, we contend that a diversified portfolio of investments that can do well in recession (fixed income), equity market catch-up (value stocks), or continued expansion (growth stocks) is a prudent and proven approach, particularly in the current environment. If you have questions or want to dive deeper on any of the above then please call us.
---
Quarterly Reports
Your second quarter 2023 portfolio reports have been uploaded to your CPWA client portal. If you don't recall your login and/or need your password reset then please email Meredith.
---
In Personal News
The Family is Growing and Thriving!
As many of you know, Brianna recently came back from maternity leave, having given birth to her second child in March. His name is Rory, and we cannot wait until he is talking but hasn't yet mastered the sound of R so we can ask him to tell us his name ("my name is wuh-we"). Outside of the office, Brianna's summer plans include quality family time and continuing to grow her cattle ranch in Creston.
Over the Independence Day weekend, Lyle and his wife traveled up to Chico to meet their first grandchild, a beautiful baby girl named Zoey who was born one day after Grandpa Lyle's birthday. Lyle's summer plans include more visits with Zoey, as much golf as he can sneak in, and enjoying his new backyard (a water-conserving yard that ran over schedule by about 6 months...thanks to all of the rain we received this winter).
Jenni is well into her usual summer plans—balancing kids, work, and local staycations and camping trips. Her husband received a promotion at Cal Poly earlier this year, assuming the role of Director of Agricultural Operations. The position comes with housing in a Cal Poly-owned ranch, so they will be moving over the summer.
Dan's son, Duncan, is home from college and is interning in our office for the third summer in a row. Duncan is an Economics major and member of the cross-country team at Pitzer College in the LA area. Dan is enjoying the added activity with Duncan at home while also looking forward to an annual long-weekend trip with friends to Catalina Island.
Meredith's favorite pastime—travel—is being fulfilled by trips to Alaska, Seattle, and a family trip to Disneyland on her birthday in July!
---
Thank You
We cannot overstate how much your trust and business mean to us. We continue to work hard to deliver high-quality and thoughtful investment portfolios, financial plans, and overall wealth management guidance. Our door, email, and phone lines remain open to you; please contact us any time with questions, concerns, life changes, or other topics to discuss. And in the meantime, we wish you and your favorite people a wonderful summer!

Cerro Pacific Wealth Advisors LLC is a Registered Investment Adviser. Advisory services are only offered to clients or prospective clients where Cerro Pacific Wealth Advisors LLC and its representatives are properly licensed or exempt from licensure. Past performance is no guarantee of future returns. Investing involves risk and possible loss of principal capital. No advice may be rendered by Cerro Pacific Wealth Advisors LLC unless a client service agreement is in place.